Verkoop
Pukas the Rush 5'8 PU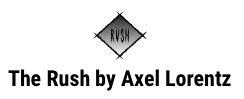 5'8 x 19.5 x 2.35  27.7 L
HIGH PERFORMANCE | A sudden quick movement toward radical-fun surfing where aesthetics matter.
The late Ron Roush carried lots of momentum in the 80s and early 90s at our factory defining an era with his shapes and attitude. Looking back to his boards, there was one particular design that caught Axel Lorentz's attention. Inspired by it's outline, Axel re-interpreted the new design to today's standards.
Staying true to the outline, the board now applies 30 years of surfing evolution being reactive, super fast and excelling when carving the face of the wave with the help of the wings. A great fun choice for waves up to overhead surf (1m50).
Op voorraad